Really big update of EasyKitchen library, which includes a new dynamic menu for all modules and new types of pencil cases. But first things first ;)
A bit of history.
A dynamic menu is by no means a novelty. It was already in the EasyKitchen library prior to version 2.0. It worked very hard. Each mouse click on it was accompanied by a wait of 2-3 seconds until something happens. Therefore, we started to develop a new menu. It took several months of hard work. And it turned out great! Beautiful, informative and, most importantly, fast. This is how it looked: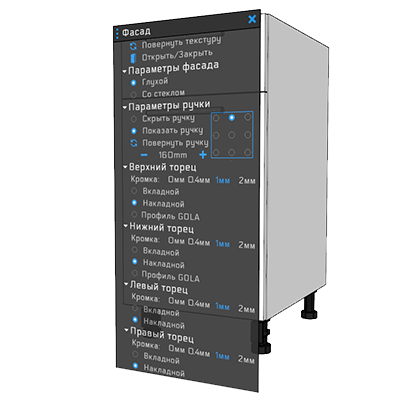 In this form, the menu should have appeared in EasyKitchen version 1.7. But this did not come true because the tests failed. SketchUp just couldn't handle the load. We could not even build a middle kitchen. Pulling out each subsequent module was accompanied by a hang. First for a few seconds. Then for a minute, etc. It became impossible to work and we refused this menu. Version 1.7 was 90% ready and it was a pity to start over.
From version 2.0 to 2.5, the dynamic menu was completely absent in the EasyKitchen library. All work with the modules was carried out through the parameter window. This is also convenient, because in this case, you can simultaneously execute several commands at once, in contrast to the menu, where one click is equal to one action. Many people work like this without accepting the dynamic menu. But it's still more hardcore than light :) And EasyKitchen is a user-friendly library, so we decided to resurrect the menu, having worked hard on it.
And it happened! Version 2.6 has been released, in which the menu has risen. A bit in a different form, a bit more truncated than what was in version 1.7. But fast! Here's what it looks like now: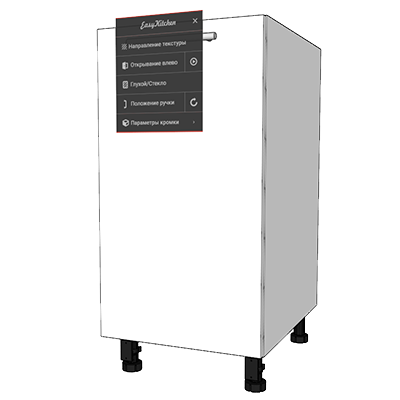 It is especially worth noting the possibility of arranging the edges on the panels through the dynamic menu - which is what many asked. Now it is very convenient and intuitive functionality. The menu with the edge pops up separately after clicking on the "Edge options" item and is located in the same plane as the part on which you want to place the edge. In addition, the menu reads the current panel settings. So it immediately becomes evident - on which side the part is already rolled up, and on which side not: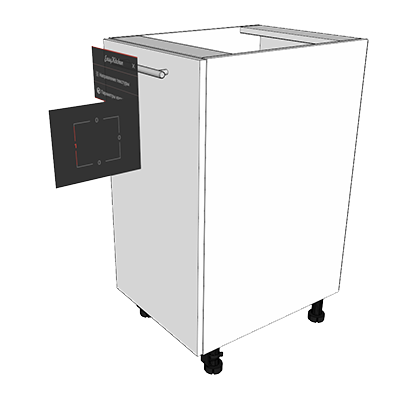 A theme with a dynamic menu will evolve. After the epic past of the file, this is a test version that will show how well we optimized this function. And how convenient it will be to use it when designing furniture using the EasyKitchen library.
Really looking forward to feedback and suggestions! Please unsubscribe in comments about your impressions!
Cases-shorties. You asked - we did) Now they are in the library. Here they are, beauties: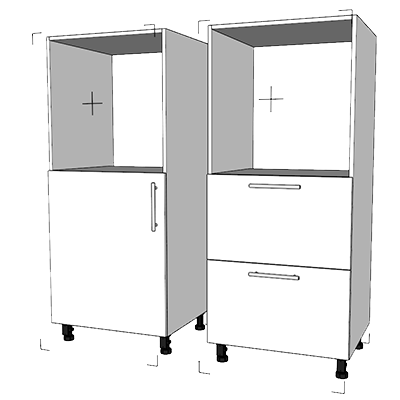 Although we have already polished the EasyKitchen library quite seriously, still there are sometimes minor bugs that you may never notice. But if you notice, then we will have a minus in the hat)
We are people, so we can be wrong. And given that the library contains hundreds of parameters and thousands of attributes, backed by multi-story formulas, to make a mistake - just spit!
While we sculpted a new dynamic menu, there were several minor bugs that were quickly eliminated:
- A bug with a frame of facades;
- Bug facades on TC2HF;
- A bug with drawers on the PD and PD2 pencil cases;
And a few other minor bugs that we no longer remember))
Animation And finally, we slightly adjusted the animation of the swing doors and drawers. Now it is a little smoother and more natural. Try it yourself by downloading updates from the "Downloads" section. We hope you enjoy it!
By the way, the demo version of EasyKitchen has also been updated. If you have not decided on the issue of its purchase, download the demo and check out the new dynamic menu!)